Print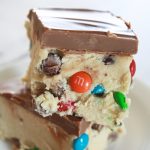 Edible Cookie Dough
This Edible Cookie Dough Recipe is my favorite recipe to bring to parties! A small bite goes a long ways because they are so right, yet the cold chocolate chips give you the perfect crunch to keep you coming back for more.
In a mixer, blend your softened butter and brown sugar

Whip that until it's fluffy

To this mixture, add in your vanilla, until combined

Next, add in the baked flour and sweetened condensed milk, alternating the two

Mix in the chocolate chips and m&m's

Line an 8x8 baking dish with parchment paper

Cover your bars with foil and freeze for a couple hours

Using the peanut butter and 1/2 cup chocolate chips, make the frosting

Remove the bars from the freezer and spread the topping over the cookie dough

Put the foil back on the bars and freeze, allowing the topping to harden for about an hour

Cut into pieces and enjoy!