Preparing homemade Chicken Noodle Soup has become easier, and this incredible recipe is proof of that!
Your entire family will love this super simple, easy-to-cook creamy chicken noodle soup  that only takes an hour to complete.
The end result is a delicious, flavorful chicken broth laced with shredded chicken, a creamy broth and noodles ready to match any fantastic weeknight meal of my choice.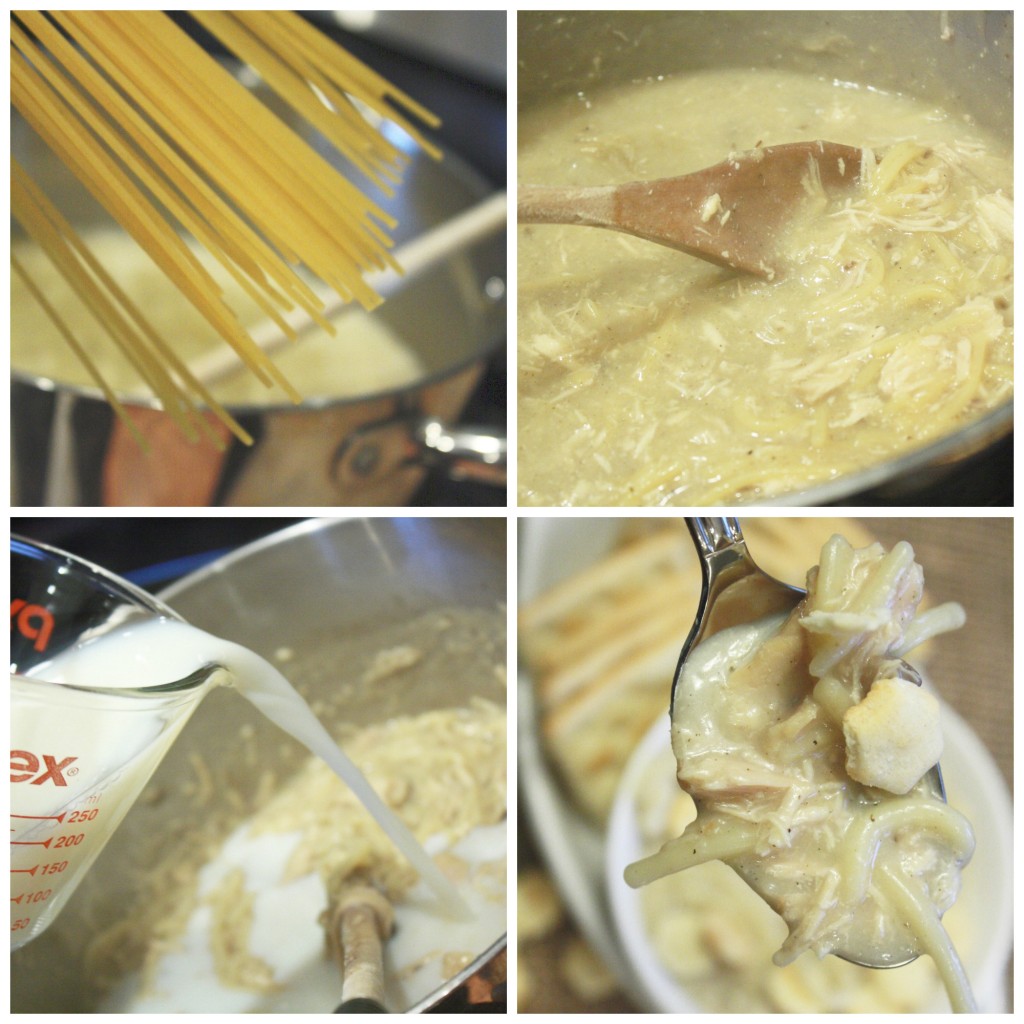 Delicious and Creamy Chicken Noodle Soup
There's just something really awesome about a great chicken noodle soup, isn't there?
In the past, I have made my chicken noodle soup using frozen egg noodles, but sometimes I find that egg noodles are too heavy for my stomach, so I tried making it with finely-cooked spaghetti noodles instead, and these are SO delicious!
The spaghetti noodles and the creamy soup texture are a perfect combination that everyone can enjoy!
Making homemade chicken noodle soup is so easy, and this recipe tastes even more nutritious than those "canned" versions you get from the supermarket shelves.
This amazing chicken soup only takes 15 minutes prep time, followed with 45-minute cook time and succeeding hours of precious family bonding time, my favorite!
I should note that to make my chicken for this recipe (and about every recipe I used shredded chicken for), I prepare my chicken in the crockpot over low heat for 4-6 hours. When the chicken is finished, I shred it in a large bowl with my hand mixer. It's a breeze and beats shredding chicken by hand any day!
Making shredded chicken in the Crock Pot
Making shredded chicken in the Instant Pot
What Ingredients Should be Included in the Chicken Noodle Soup?
The key to a perfectly-made chicken soup often lies in your choice of broth, whether you prefer to make it natural or spicy. This chicken noodle soup recipe isn't made of traditional ingredients, such as herbs and spices, so my kids really love its creamy taste.
I also make sure that my chicken noodle soup is loaded with texture, flavor, and, more importantly, vegetables for a balanced family dinner. That's why I always fill up my soup with chopped celery, onions, and diced carrots.
A delectable chicken noodle soup won't be complete without my desired choice of carb, of course! Egg noodles are the conventional noodle ingredient in most recipes as they can hold up better on the soup. However, in this recipe, I use spaghetti noodles to give my chicken soup a different approach to go along with my flavorsome shredded chicken.
The Best Sides to Serve with this Chicken Noodle Soup
You might be asking me what to prepare while waiting for your chicken in the crockpot. And four hours of waiting time seems long enough to get these quick and easy-to-prepare sides ready when the chicken soup is done.
Garden salad with butter dressing
Baked potato salad
Cheesy mashed potato puffs
Garlic-roasted broccoli, mushrooms, and carrots
Steamed vegetables, potatoes and corn
Gourmet kidney beans
Cheese bread
Cheese biscuits
Cheese grilled sandwich
Fiery kale with garlic in olive oil
Herb toast in butter
Parmesan roasted zucchini (optional)
Though my chicken noodle soup recipe already tastes flavorful, sometimes I still crave for other flavor varieties that could enhance the soup. Here are some of my flavoring ideas you may use to achieve that hearty soup taste:
Chopped parsley
Basil
Rosemary
Oregano
Black pepper or red peppers (coarse or flakes)
Garlic (powdered, chopped or flakes)
Thyme
Bacon bits
Give this chicken noodle soup recipe a try, and I promise you'll love it!
Ingredients
1 T butter
1 large onion
3 c. chopped, cooked chicken
3 cans 14 1/2 oz. chicken broth
2 cans cream of mushroom soup
8 oz. spaghetti noodles broken into 2-inch pieces
1 t. poultry seasoning
2 t. lemon pepper
2 cups of milk
Optional:
5 celery ribs diced
6 medium carrots diced
Here's How I Prepare this Savory Soup:
Melt butter in a pot over low heat.
Add diced onion and sauté until tender.

Stir in shredded chicken together with the cream of mushroom soup, chicken broth, spaghetti noodles, seasoning, lemon pepper, diced celery, and carrots.
Bring everything to a boil.

Reduce heat and simmer for about 45 minutes. Stir the soup every 15 minutes to achieve consistency. The chicken soup will become thick, looking almost like a chicken pasta casserole consistency, but Add your milk to make the soup a little thinner, like soup.

Stir in milk and return to simmer.

Remove from heat and let the soup sit for about 10 more minutes.

Garnish with chopped parsley, chili flakes, rosemary, and hot sauce.
Serve with your favorite sides and enjoy!


Creamy Chicken Noodle Soup
This creamy chicken noodle soup is absolutely the BEST and so easy. It's full of flavor and since it uses spaghetti noodles instead of egg noodles it brings a different flavor to the table.
Ingredients
1

T

butter

1

onion

diced

3

c.

chicken

cooked and shredded

3

cans 14 1/2 oz. chicken broth

2

cans cream of mushroom soup

8

oz.

spaghetti noodles broken into 2 inch pieces

1

t.

poultry seasoning

2

t.

lemon pepper

2

cups

milk

5

celery ribs diced

6

medium carrots diced
Instructions
Melt butter in pot on low

Add diced onion and sauté until tender

Stir in chicken and next 6 ingredients (or 8 if you're adding in the celery and carrots).

Bring to a boil

Reduce heat and simmer 45 minutes

Stir in milk and return to simmer

Remove from heat and let stand 10 minutes
Recipe Notes:
Use the crockpot to cook chicken with olive oil, seasoning and salt. Cook the chicken for 3-6 hours on low heat.
You may cook the spaghetti noodles before preparing the broth and then combine them with the rest of the ingredients later. This will prevent the noodles from becoming soggy.
It's really wonderful to enjoy this mouth-pleasing chicken noodle soup recipe made with healthy vegetables, tenderly-cooked noodles and shredded chicken all combined in an appetizing chicken broth. So if you don't have any idea what to prepare for tonight's dinner, this chicken soup is a very good choice.