Lord Heavens, if you like the flavors of crack chicken, you're really going to love these Crack Chicken crescent roll appetizers! Crack Chicken Finger Rollups are a favorite of my family.
But, don't overlook these Crack Chicken Sandwiches if you're looking for another crack chicken recipe to blow your mind as well!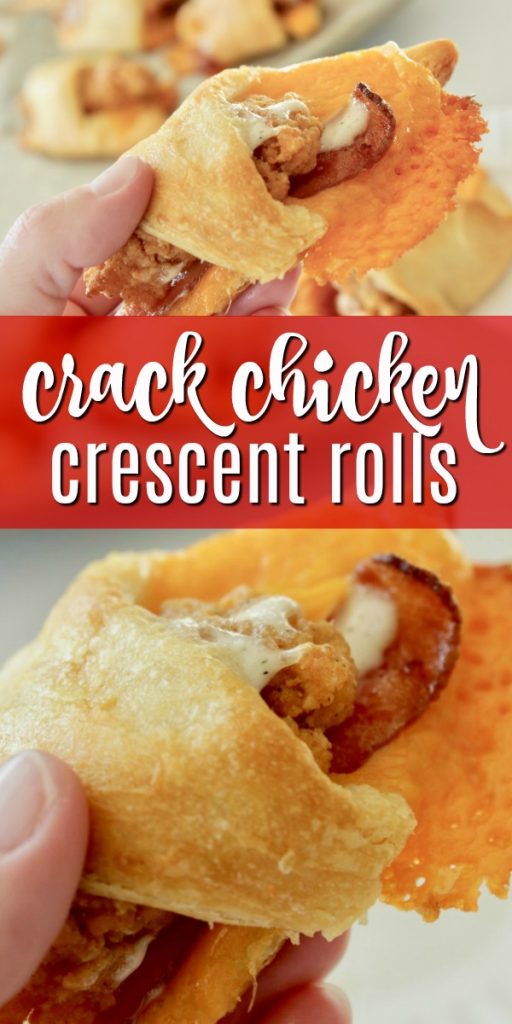 Crack Chicken Appetizer Chicken Finger Rollups
You see, I am all about making dinner at home. The hustle and bustle of running around getting meals from restaurants, ingesting another calorie filled heartburn inducing fast food meal just doesn't sound good to me … at all. So, I love to make meals that I know my family will love. But, I am also admittedly a super lazy cook.
What I mean is this. If the recipe has more than ten ingredients total I am turned off big time. And, the steps … let's just say that beyond five steps and my eyes start to get fuzzy and my brain goes into overload. 🙂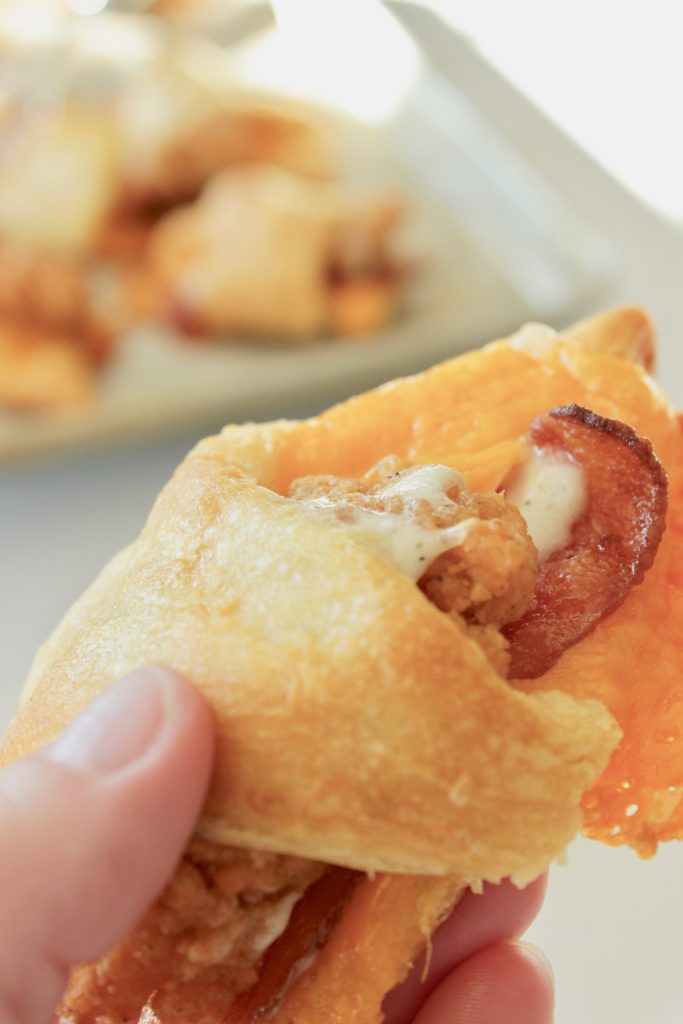 Which might be why I love the crack chicken recipe craze so much. A recipe for crack chicken anything will contain cheese, bacon, ranch and chicken. Those four ingredients are undoubtedly going to be in the recipe if it's a crack chicken recipe. So, if you're sitting here wondering how do you make crack chicken, throw those four things in a dish and you're 99% on your way.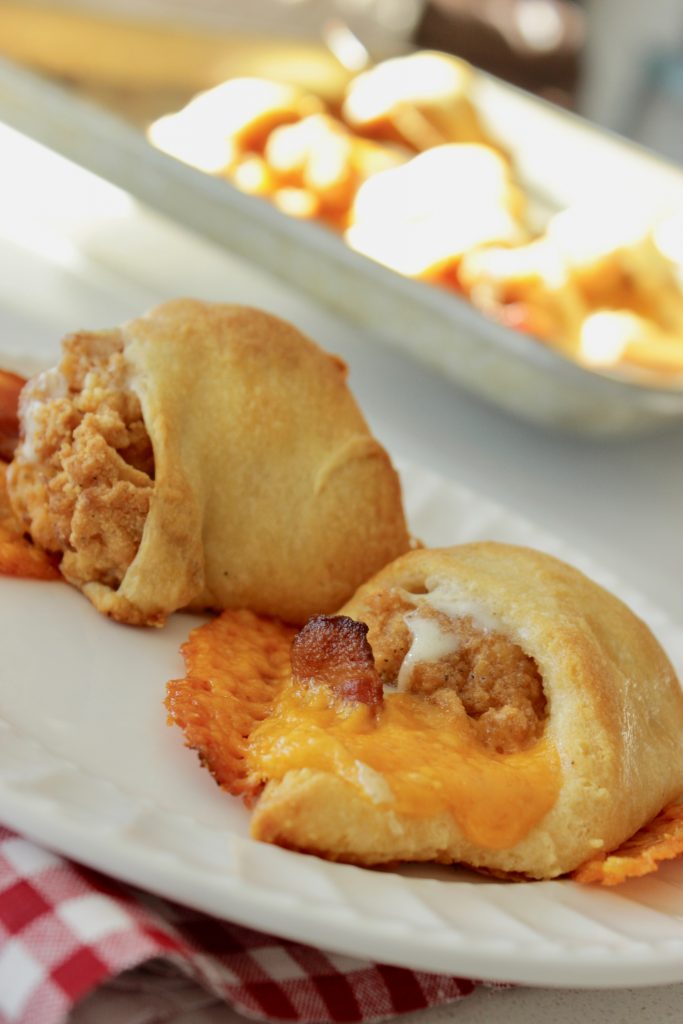 You see, crack chicken has become kind of a way of life for recipe "starters" in the Sorensen family.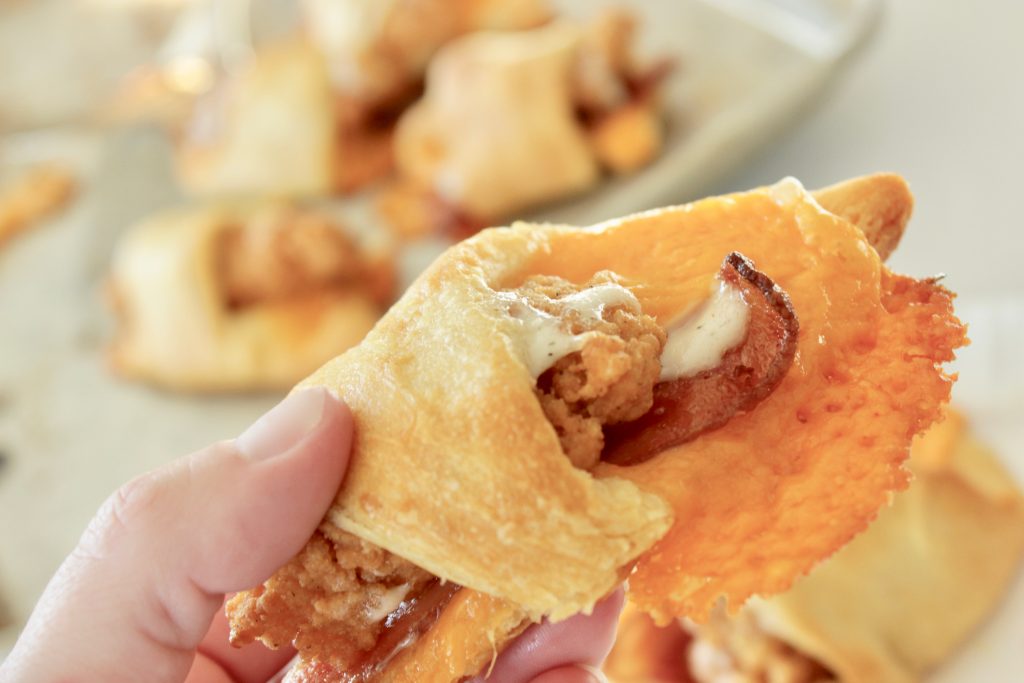 I have mastered the Instant Pot Crack Chicken, and my Crockpot Crack Chicken Pasta has become super popular and you'll also see the same familiar ingredients in this Crack Chicken Sandwich Recipe.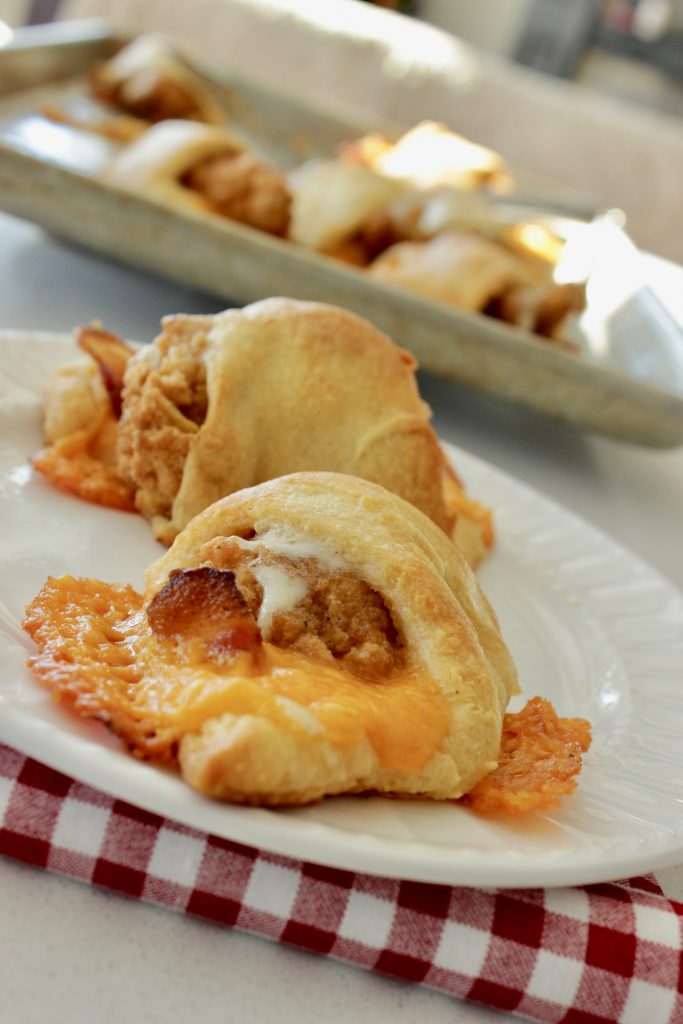 But, this crack chicken recipe is different in that it's kind of a finger food. A Crack Chicken appetizer that's not a dip per sé. These are a super favorite among my family and for good reason – because they contain everything that kids and adults love all rolled up into one bundle of happiness.
Ready to give this Crack Chicken Crescent Roll Recipe Finger Rollups a try? Here's how I whip these up:
Crack Chicken Appetizer Chicken Finger Rollups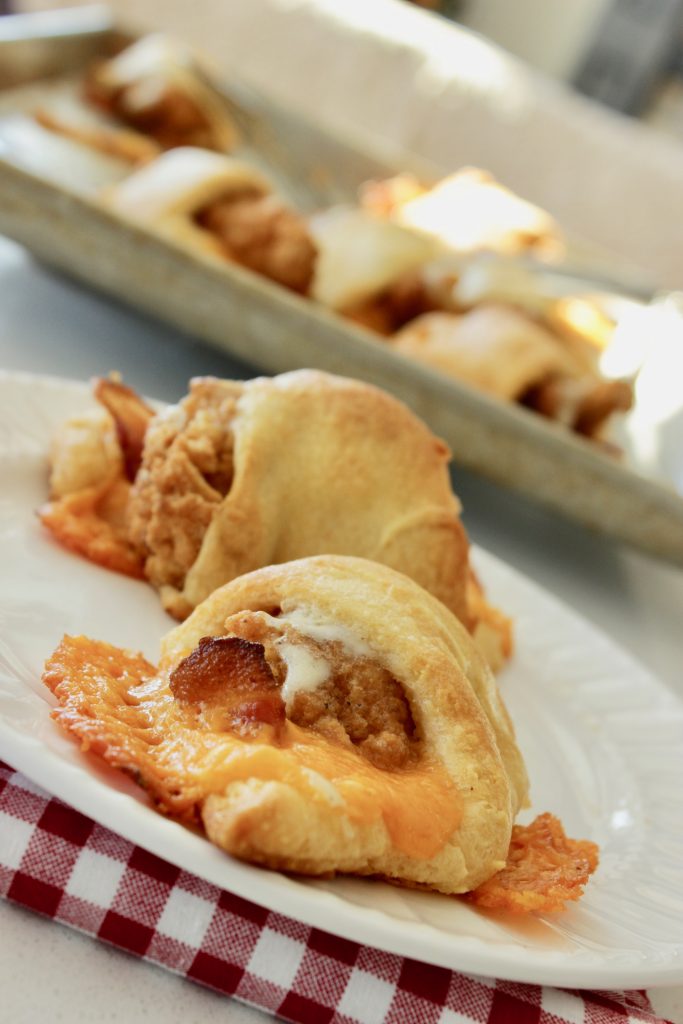 Ingredients:
1 tube of Pillsbury Crescent Rolls (8 ct)
Ranch Salad Dressing (enough to put a three inch line of dressing on 8 crescent rolls) *** If your family likes Buffalo sauce flavor, use Buffalo sauce — this is the original way I make these fro adults, but adapted the recipe for my kiddos who don't love spicy. 🙂
8 Tyson Crispy Chicken Fingers
4 slices cooked bacon cut in half
8 Cheddar Cheese slices (1 inch by 3 inch is perfect but use the real stuff please!)
2 T Butter
Crack Chicken Appetizer Chicken Finger Rollups
This Crack Chicken Appetizer is one of our favorites - so much so that I serve them as a dinner.
Ingredients
1

tube of Pillsbury Crescent Rolls

8 ct

Ranch Salad Dressing

enough to put a three inch line of dressing on 8 crescent rolls *** If your family likes Buffalo sauce flavor, use Buffalo sauce -- this is the original way I make these for adults, but adapted the recipe for my kiddos who don't love spicy. 🙂

8

Tyson Crispy Chicken Fingers

4

slices

cooked bacon cut in half

8

Cheddar Cheese slices

1 inch by 3 inch is perfect but use the real stuff please!

2

T

Butter
Instructions
On an ungreased cookie sheet lay out crescent rolls

Starting on the wider end, top each crescent roll with an uncooked chicken finger, slice of bacon, strip of cheddar cheese, line of ranch dressing

Roll crescent rolls from the wider side into the thinner side until they form a roll

Bake at 375 degrees for 18 minutes

Remove from oven, brush tops of crescent rolls with melted butter