It's so much easier to make chocolate peanut clusters than you think! And, I'm sharing my very best crockpot candy peanut clusters recipe in this blog post.
These are literally one of the most popular recipes on my blog. And, I promise that when I tell you I make these often that I'm telling the Honest-to-God truth.
BUT, in order to make these crockpot peanut clusters there are some foolproof tips that you're going to want to know if you decide to make these.
And, I'm sharing these with you today!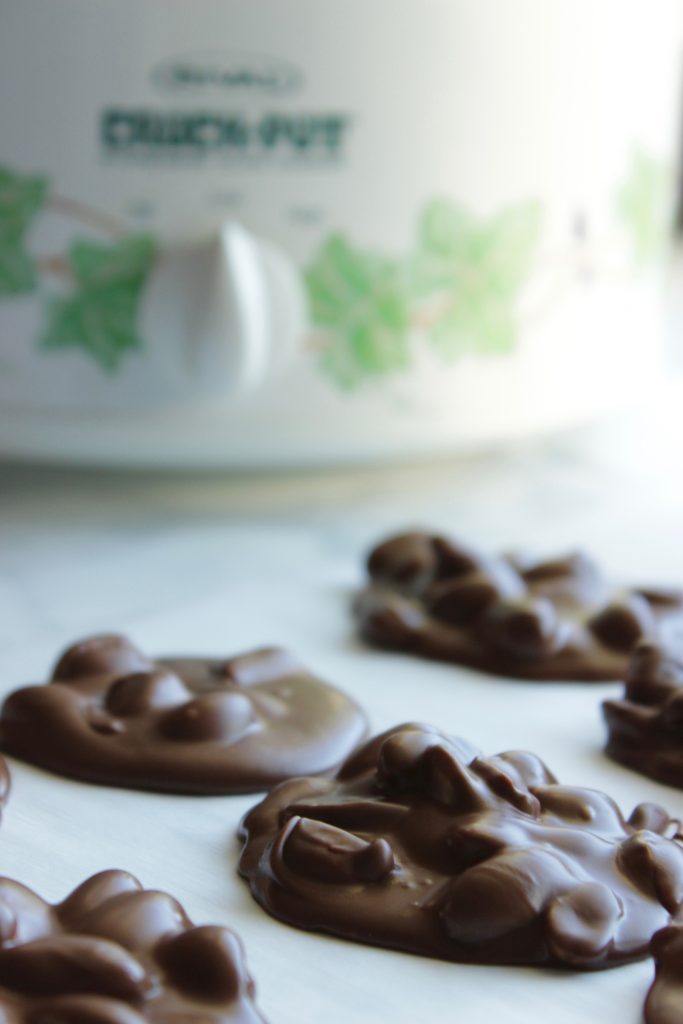 Crockpot Peanut Clusters
You may have seen my crockpot peanut clusters Facebook video (it went insane on social media!). And, surprisingly, there was a lot of great feedback (let's be honest, the internet isn't always the kindest, right?) so I knew that it was a hit.
I'll be honest, I don't love baking. I don't love chocolate, and I don't love being in the kitchen any longer than I have to be. This is really turning into confession time, right??
But, in my defense, I've always been honest that I love recipes that are less than five ingredients. And, many more than seven-eight steps, and I'm outta there like a bad habit. And, if the title has the word Crock Pot recipe in it, or Instant Pot, I'm all about it.
So, that's probably why this crock pot peanut clusters recipe is one of my favorites!
And, it appears that I'm not alone as every winter and holiday baking season this crock pot chocolate covered peanuts recipe goes bonkers on Pinterest, too. Because I'd assume everyone loves a good crock pot candy, right?
OK, enough chit chatting, we're on to how to assemble these crockpot chocolate covered peanuts… mmm.
Ingredients for Crockpot Chocolate Peanut Clusters
20 ounces white almond bark
4 ounces German chocolate bar baking chocolate
12 ounce bag semisweet chocolate chips
24 ounces dry roasted peanuts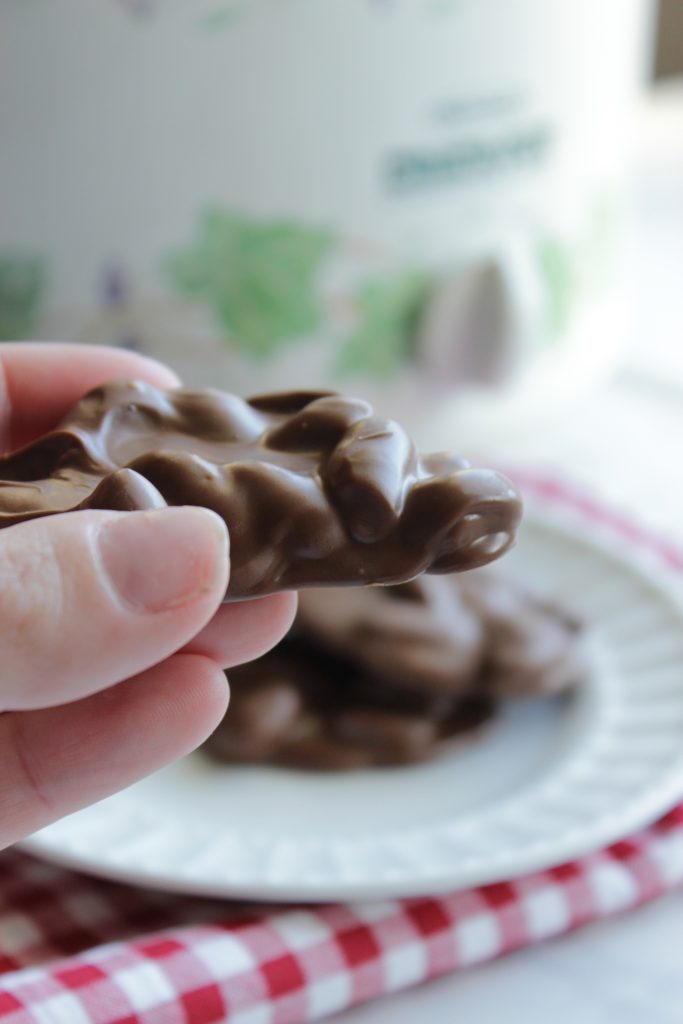 Recipe for Crock Pot Peanut Clusters
Add all ingredients to the slow cooker in the order listed above.
Place a paper towel over the crockpot and place the lid on top of the paper towels
Let cook on low for 1 hour (no peeking!)
After an hour, stir to combine everything.
Put the paper towel back on top of the crockpot and replace the lid.
Allow to cook for 15 more minutes.
Drop spoonfuls of the candy onto parchment paper and allow to cool completely.
Depending on the room temperature this could take 2-3 hours.
The order of the items being put into the crock pot is really important to avoid burning.
Foolproof Tips for this Crockpot Peanut Clusters Recipe:
The paper towels under the crock pot lid is really important. There cannot be any condensation in the chocolate mix or you'll have lumpy chocolate.
The paper towels will 100% solve this problem from happening, so make sure that you take care to be sure the crock pot is covered correctly.
Can I microwave peanut clusters?
This peanut cluster recipe can be made in the microwave. I have only made this as a slow cooker recipe so I can't say for sure, and I can't speak to it's success in the microwave.
 Are nut clusters good for you?
Well, I mean … nuts are protein, right?? Of all of the sweets you can consume, I'd say that milk chocolate peanut clusters are among some of the healthier sweets. Atleast I look at them that way 🙂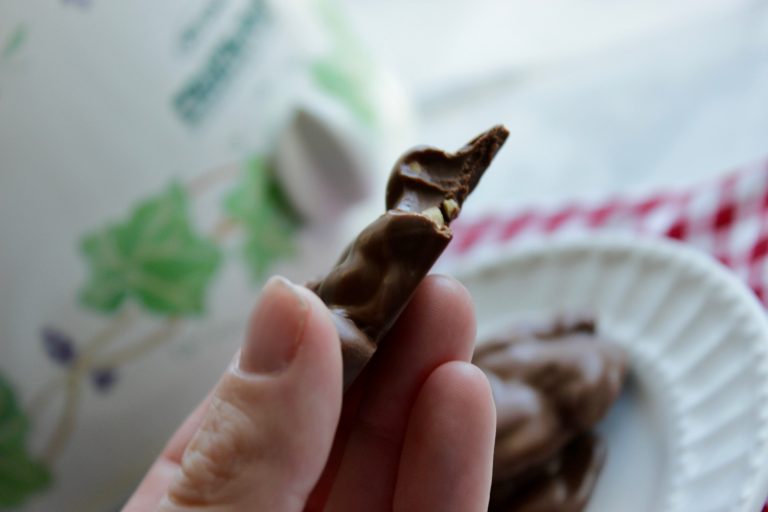 Is this the same recipe as the Trisha Yearwood crockpot peanut clusters?
I am just not sure, but this is the way that I prefer to make them 🙂
What holidays are these chocolate covered peanut clusters best for?
I always make these at Christmas. I also love to make these at Easter time too. There is baking chocolate that is white and you can use white chocolate chips to make these more "Eastery". And, adding pastel colored sprinkles is a great option too.
Can I use candy melts instead?
I don't recommend changing up this recipe at all. In fact, another foolproof tip that I have to share is that the ingredients that I chose for this recipe are there for a reason, for example, if you don't use enough almond bark, your nut clusters won' harden correctly and I think that with candy melts you'll find that the clusters will be a bit dull and sticky.
It's just the way that each of the candies dries after being melted. So, my advice is to stick with the ingredient list the way it is (unless you're making them white and I laid out your options above for doing that)
Where do I find almond bark?
Almond bark is found in every grocery store by the chocolate chips and baking items. Almond bark is not the same as chocolate chips, though so pay close attention.
Another foolproof tip for you. Do not skimp on the almond bark. When in question, or faced with odd amounts, always choose more. Again, you need the minimum amount for the clusters to set up correctly.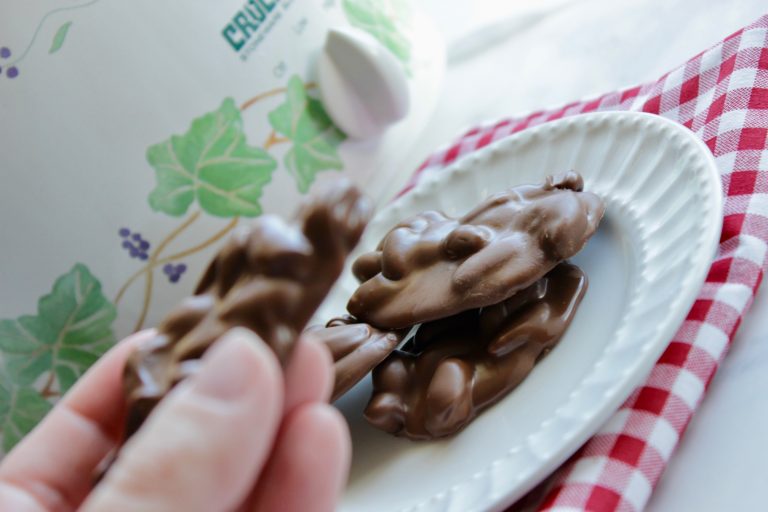 Can I add peanut butter to the crock pot nut clusters?
Shoot. Peanut butter + chocolate = LOVE in my book, but I recommend just letting the peanuts do the talking in this slow cooker clusters recipe. There will plenty of peanut flavor as is.
Can I make these into dark chocolate peanut clusters?
Sure! Make these clusters more dark chocolate flavor by using dark chocolate chips rather than semisweet chocolate chips to make them more of a dark chocolate flavor. Easy peasy!
More crockpot chocolate candy recipes:
Crock Pot Almond Clusters
Chocolate Covered Cashews recipe
Crockpot Turtle Candy